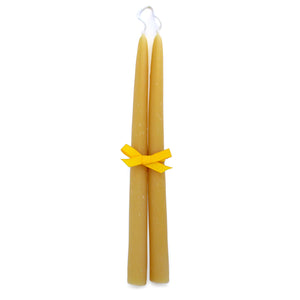 These beautiful, Alaskan-made, beeswax taper candles are a romantic way to light the dinner table, and can also be used as decor for parties or holidays. They are considered seconds because the was is slightly discolored or dented. They will still burn perfectly and look lovely in your favorite candle sticks. 
Beeswax is made by honeybees to store their honey, pollen, and brood (baby bees). It makes wonderful perfume- and dye-free candles and has a natural, calming scent. It also has a lovely golden color that goes with any decor. 

Beeswax has been used in candle-making for generations and is prized for its ability to purify the air and burn for long periods of time. 
11.25" height and .75" diameter (at the bottom)