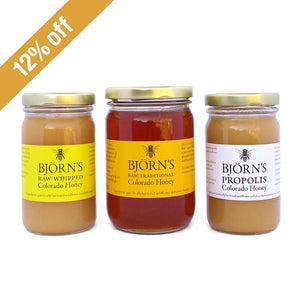 The Björn's Sampler offers a 12% savings on three classic honeys that Pontus, our beekeeper, has worked hard to develop over the years. It's ideal for anyone who loves Björn's or local honey, and is a perfect staple for any pantry. 
Our Raw Whipped Honey is great for people who enjoy creamed honey. Its production process is based on Swedish traditions, and it will never change consistency as the natural crystallization process has already taken place. 
Our Raw Traditional Honey is the perfect everyday honey. Made from a blend of Colorado front range wildflower and clover honey, the flavor is perfect for tea, baking, topping yogurt or eating by the spoonful. 
Propolis Honey is ideal for those who eat honey to stay healthy and combat colds or seasonal allergies. Propolis is known for its remarkable abilities to help fight viruses, bacteria, microbes and fungus, and is also a powerful anti-histamine.  
Whipped Honey Net. Wt. 10.5 oz.
Traditional Honey Net. Wt. 16 oz.
Propolis Honey Net. Wt. 10.5 oz.