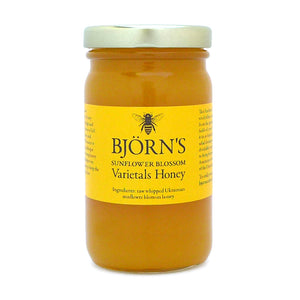 Ukrainian Whipped Sunflower Blossom Honey has an incredibly bright and sunny flavor with notes of fall apples, summer rains, and sunflower resin. We source it from a beekeeping colleague in Ukraine. By sourcing honey from the best beekeepers we know, we are helping to keep the craft of beekeeping alive.  
This Sunflower Honey has a vivid yellow color and comes from the sprawling sunflower fields of central Ukraine. Use it in an herbal honey mustard salad dressing or to sweeten drinkable yogurt.
We're grateful to bring this product to our American customers in support of the Ukrainian people. 

Net. Wt. 10.5 oz.