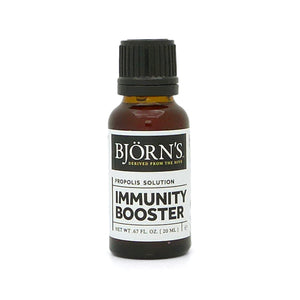 Björn's Propolis Immunity-Booster Solution is a concentrated propolis extract that is great for immune-boosting, fighting colds and viruses, and even as an alcohol-free mouthwash. Propolis is known to have antibacterial, antifungal, and antiviral properties, and is purported to help heal infections and increase the immune system's ability to fight off illness.
It can be taken as a supplement or used as a mouthwash that can be swallowed. 
Our Propolis Solution is thirty percent propolis suspended in a mild glycerol liquid. It is alcohol-free. 
0.67 fl. oz.