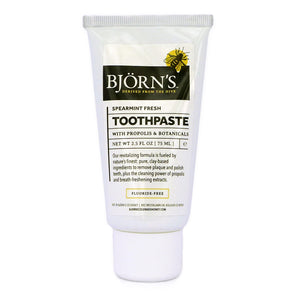 Björn's Propolis Toothpaste is great for people who have sensitive mouths or cannot tolerate fluoride. It contains propolis, which is antibacterial, antifungal and antiviral – a perfect ingredient for oral care. Propolis cleans teeth and gums by killing bacteria in the mouth without harsh chemical hardeners, and it's also a mild desensitizer, helping people who have sore teeth or gums.

Björn's toothpaste has spearmint extract, sorbitol and stevia to enhance flavor and leave your mouth and breath fresh. There are also natural extracts of echinacea, yarrow and commiphora myrrha, which can help the mouth fight bacteria, increase saliva production, and dull existing pain or discomfort in teeth and gums. A mild inclusion of silica gently polishes teeth and removes plaque.

This toothpaste is also great for kids and dogs, as it is not harmful if swallowed.