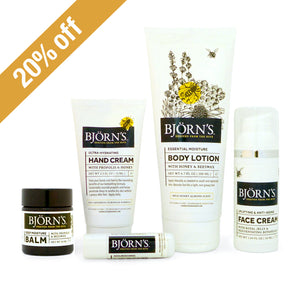 Our Björn's Skincare Sampler offers our five best-selling skincare items in one easy bundle. You get our rich and moisturizing Propolis Hand Cream, our luxurious Royal Jelly Face Cream, our nourishing Propolis Lip Balm, our lightweight Honey and Beeswax Body Lotion, and our healing Propolis Salve all for 20% off. 
Björn's Honey and Propolis Hand Cream is mild, moisturizing, and contains propolis which can help heal small cracks and irritations on the skin. It also contains beeswax and honey, which lock in moisture. This light yet rich hand cream contains high-grade botanicals including macadamia nut oil and rosemary leaf extract. Honey and Propolis Hand Cream also provides a very mild honey scent suitable for both men and women. It leaves hands and feet feeling moisturized and nourished.
Björn's Royal Jelly Face Cream is a luxurious face cream that contains royal jelly. Royal jelly is a protein worker bees feed to all brood (offspring) in the hive. They actually feed extra amounts of this legendary substance to specially selected brood, which then grows to become queen bees. Royal jelly is full of amino acids, minerals, enzymes, and antibacterial/antibiotic components. It is an age-old treatment for aging and skin rejuvenation.
Björn's Honey and Beeswax Body Lotion is made with honey, beeswax, almond oil, and vitamin E. It soaks into the skin easily and leaves it feeling soft and moisturized, but never greasy. Honey and beeswax work to nourish skin and lock in moisture, while almond oil soothes dry irritated skin. Studies show Vitamin E protects the skin from light, including preventing UV-induced free radical damage. It also contains antioxidants that are essential for the maintenance of healthy skin. Our Body Lotion has a mild honey almond scent and is suitable for any gender. 
Björn's Propolis Salve is a highly concentrated healing salve full of propolis, beeswax, and juniper. Propolis is known to have antibacterial, antifungal, and antiviral properties and is purported to help heal wounds and infections. This salve leverages the benefits of propolis, smells pleasant, and stays put. Propolis Salve can be applied externally on abrasions and skin irritations much like a triple antibiotic. It can also be used as a medicated moisturizer and effective cuticle cream. It can even be used on yellow toenails, cold sores, and hemorrhoids. It will be your favorite go-to for all of life's little problems and is extremely concentrated so the jar will last a long time.
Björn's Propolis Lip Balm is a natural lip balm that contains propolis, beeswax, and sunflower oil. The propolis heals small cracks and chapped lips. The beeswax and sunflower oil help nourish the lip's surface and keep moisture in.
Bring home the healing and moisturizing substances of the hive with this Skincare Sampler at 20% off this season. 
Propolis Lip Balm Net. Wt. 4.8 gm.
Royal Jelly Face Cream Net. Wt. 1.69 FL. oz.
Propolis Hand Cream Net Wt. 2.5 fl. oz.
Honey and Beeswax Body Lotion Net Wt. 6.7 fl. oz.
Propolis Salve Net. Wt. 1 fl. oz.