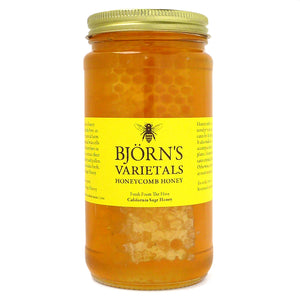 This jar contains fresh California Sage Honeycomb and liquid Sage Honey from Pontus's favorite West Coast beekeeper. Honey's taste and color changes depending on what types of flowers the honeybees have pollinated; this variety has a clean honey flavor with notes of caramel and hay. 
Pontus has many beekeeping friends and has always wanted to find a way to bring their amazing regional honey to his customers. By sourcing honey from the best beekeepers he knows, we are helping to keep the craft of beekeeping alive. 
A honeycomb is honey fresh from the hive in its perfectly natural form. The hexagonal wax cells are built by honeybees to contain their stores of honey and pollen. It's a rare novelty treat, and is great eaten by the spoonful. It also makes a stunning accompaniment to cheese plates or spread on fresh, warm, bread. The wax is edible and digestible. 
Honeycomb Honey should be eaten immediately, if possible. Otherwise, it should be stored at room temperature.