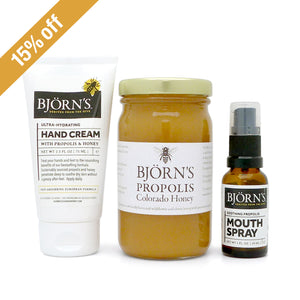 Propolis is a staple here at Björn's and we are proud to offer this Propolis Sampler, which features our three best-selling propolis products at 15% off.
Propolis is known for its remarkable abilities to assist in the fight against viruses, bacteria, microbes and fungus. Whether you are eating it to boost your immune system or using it topically to heal and protect, propolis is an amazing substance that should be in every household.

Björn's Propolis Hand Cream is mild, moisturizing, and contains propolis to help heal small cracks and irritations on the skin, and beeswax and honey to lock in moisture.

Björn's Propolis Honey is perfect for those who eat honey to stay healthy and combat colds or allergies. It's also a powerful anti-histamine, making it ideal for anyone suffering from seasonal allergies.

Björn's Propolis Mouth Spray has a pleasant mint and eucalyptus taste in an alcohol-free formula that freshens breath and boosts immunity. This classic European remedy will help keep you and your family healthy during cold and flu season, or while you travel.

Propolis Hand Cream Net Wt. 2.5 fl. oz.
Propolis Honey Net Wt. 10.5 oz.
Propolis Mouth Spray 1 fl. oz.