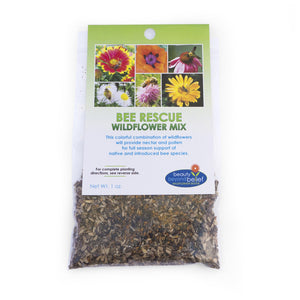 If you're looking for a fun, easy way to support native and honeybees in your yard, try these pollinator-friendly wildflower seeds. Made by local company BBB Seed, these exceptional quality mixes are hand-selected to grow on the Colorado front range (although they will do well in most growing zones!), and will provide nectar and pollen to support the health and vitality of native pollinators and honeybees alike. 
The seed mix includes Baby Blue-eyes, Poppies, Forget-Me-Not, Purple Coneflower, Spiderwort, Coreopsis, Cosmos, Indian Blanket, Rocky Mtn. Beeplant, Globe Gilia, Tidy Tips, Rockcress, Sweet Alyssum, New England Aster, Aspen Daisy, Monarda and Lavender Hyssop.
1 oz. of seeds per bag.