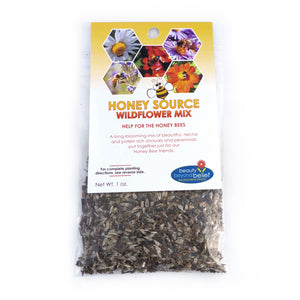 If you're looking for a fun, easy way to support native and honeybees in your yard, try these pollinator-friendly wildflower seeds. Made by local company BBB Seed, these exceptional quality mixes are hand-selected to grow on the Colorado front range (although they will do well in most growing zones!).
The Honey Source Mix contains long-blooming flowers that provide nectar and pollen for honeybees. It contains both annuals and perennials, with varieties chosen for their high levels of nutrition. The honeybees we have in Colorado are originally from Europe, and need a steady supply of nectar and pollen throughout the growing season to maintain their hives. These seeds add a lovely dose of natural beauty to your garden, and you'll also be amazed by the variety of pollinators they attract!
The seed mix includes: Rockcress, China Aster, Siberian Wallflower, Spider Plant, Lance-Leaved Coreopsis, Dwarf Sulphur Cosmos, Chinese Forget-Me-Not, Purple Coneflower, California Poppy, Perennial Gaillardia, Gaura, White Upland Aster, Corn Poppy, Rocky Mountain Penstemon, Lacy Phacelia, Prairie Coneflower, Sweet Mignonette (Reseda Odorata), Smooth Aster, and Single Marigold.
1 oz. of seeds per bag.